Wrinkles are the signs of skin ageing. Young people can have them when their face muscles contract and these are known as expression lines. With age, they tend to become more and more prominent, even when the face is relaxed.
The formation of wrinkles depends on several factors:
Ageing skin, which shows atrophy and loses its elasticity due to the depletion of collagen and elastic fibres;
A loss of volume in subcutaneous cell tissue, especially fat, but also muscle and bone, resulting in a loss of skin support and leading to deep folds forming when facial expression muscles contract;
Sagging tissues, whose movement accentuates the natural folds of the face;
Muscle contractions that cause skin furrows due to a loss of elasticity and weakening of subcutaneous support.
All these factors are subject to influences that can aggravate the formation of wrinkles, such as excessive exposure to the sun, tobacco, hormonal issues, lack of hydration and skin care and especially genetic factors, which undeniably play an important role. When these influencing factors favour the early formation of wrinkles, it is very important to undertake preventative treatments as soon as possible. These will help to avoid the rapid formation of deep wrinkles. Curing these is potentially harder.
Preventative wrinkle treatments are designed to limit these aggravating factors as much as possible when it comes to skin ageing. It is recommended that you limit sun exposure and tobacco consumption and regularly use hydration treatments as well as protective and stimulating cutaneous regeneration treatments (peels and laser treatment, ...). In addition, it is a good idea to avoid the loss of skin support by injections to maintain the volume of subcutaneous cellular tissue (hyaluronic acid or lipofilling) and to limit the intensity of muscle contractions in areas where these are strongest, such as around the forehead and the eyebrow area (botox).
There are 3 main parts to preventative and curative wrinkle treatment:
Filling injections to maintain volume and fill wrinkles (hyaluronic acid or lipofilling);
Botox injections, which have no filling effect but reduce muscle contractions and relax muscles even at rest, thereby reducing the depth of wrinkles;
Laser and chemical peels or dermabrasion, which are particularly good for removing skin imperfections and wrinkles.
The aim of these techniques is to limit the effects of cutaneous ageing with gentle and frequent interventions under local anaesthetic and no hospitalisation, leaving very little swelling or bruising and without scars, allowing you to quickly resume your social life.
It is important to dispel the frequent confusion in public opinion that filling injections will swell tissues, giving an artificial appearance. On the contrary, wrinkle filling injections are not made to inflate tissues but to maintain their previous natural volume, preserving your original physical structure and the natural appearance and personality of your face.
The objective is not to perfectly correct every tiny wrinkle, resulting in an inexpressive and puffy face, but to reduce more pronounced wrinkles as far as possible if these are evident at rest, so that the whole face is harmonious and toned. The aim is to preserve your identity and natural expressions of emotion.

Treatment of nasal folds by hyaluronic acid injection - Result after 2 years
We have to determine the main cause of the appearance of wrinkles in order to treat these in the most appropriate way(s). This initial physical diagnosis will determine the most effective treatment to use.
If you have wrinkles due mainly to a loss of tissue volume, for example on the upper lip, to stop these from getting worse and correct them we will need to use a filling product (hyaluronic acid) to restore the original volume by filling the wrinkles.
If wrinkles are mainly caused by strong muscle contractions in the region, such as the forehead and the mid brow region, and the forehead muscles remain contracted even at rest leading to the skin permanently appearing wrinkled, injections of botulinum toxin (botox) can be used to partially stretch the muscles. The precise amount of botox must allow the skin on the forehead to relax while still allowing expressions in this region and maintaining a natural appearance.
If wrinkles are already significant, for a more complete result, we may need to combine two treatments: muscle relaxation by botox injection and wrinkle filling by injecting hyaluronic acid.
The surface of the skin can also be altered by multiple fine lines or skin irregularities, which may include pigment spots. These cases can be treated by peeling (laser, chemical or dermabrasion). These peeling treatments can be combined with filling injections and/or botox injections, depending on each individual case.
Wrinkles that are due to sagging and falling tissues, such as wrinkles located between the chin and jowl, can be reduced when they start to appear by using filling injections (hyaluronic acid). However, complete treatment will need to correct the cheek sagging with a facelift, usually a minilift. This means the problem can be corrected with a perfectly natural result. Indeed, only treating wrinkles by filling them when tissues are sagging leads to an inefficient accumulation of the filling product, which can cause deformations and a puffy, unnatural appearance.
With rejuvenating surgery like a facelift or Curl-lift (using tension wires), injections of hyaluronic acid and/or botox can also be used to give a more complete result and improve facial harmony.
Indeed, correcting a particular defect may accentuate another defect in the same anatomical area. For example, a facelift can raise the neck, cheek and cheekbone but does not improve the upper lip which, if wrinkled, will attract attention in contrast to the rest of the face.
This simultaneous wrinkle treatment across the whole face leads to a more balanced and natural result.
During the first consultation, it is essential that you openly express what bothers you and what you would like to improve. Do not be afraid to ask any questions, including expressing your fears and expectations. Everyone has a different body shape, psychology and expectations. These are not the same and there is no standard to apply.
After you have explained your motivations, I will examine you and offer one or more solutions, taking into account your expectations, your anatomy, respecting your identity and the natural aspect of your appearance.
So you can visualise the desired result, I will show you photos of surgical results from cases similar to yours so you can understand the objective of the procedure.
It is essential that you and I have a good understanding when deciding to operate and to determine the technique to use from those I can offer.
I will then give you all the information on the techniques proposed along with the information sheets from the Société Française de Chirurgie Plastique Reconstructrice et Esthétique (French Society of Plastic, Reconstructive and Cosmetic Surgery) as well as a detailed estimate of the costs for the options chosen. You will then be able to move your project forward and get ready for a second consultation when you will be able to ask any additional questions to help you make a decision and prepare for the operation.
No special examination is required.
No medications containing aspirin or anti-inflammatories can be taken within 10 days of the procedure.
For a local anaesthetic, it is recommended that you drink and eat lightly at the usual meal times before treatment.
The treatment is carried out in the medical centre with no stay in hospital required.
The duration of the treatment is about 30 minutes; then you may go home straight away
Local anaesthetic is sufficient.
Before giving you the injections, I will go over the precise goals with you as we agreed during the consultations. You can then always make recommendations and ask any questions. I will then draw the marks on your skin to guide the treatment.
The injection uses a fine needle, limiting the pain and allowing more precision, as well as with a foam micro-cannula, which is not sharp and avoids bruises on the treated area.
There are no scars because the micro-cannulas are introduced through needle puncture holes and leave no marks.
Hyaluronic acid injections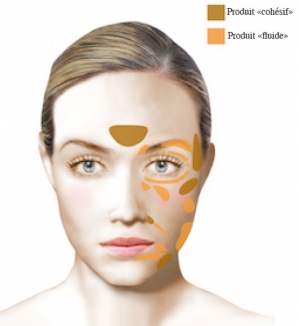 These are performed on 2 levels:
At a deep subcutaneous level for volume injections.

At surface level within the skin's thickness to fill wrinkles and smooth the skin's surface.
Injections should be performed regularly in small, well-distributed volumes to avoid product accumulation in the same area. This could leave a palpable or visible lumpy area after treatment. In addition, following the injections, I massage the area I have treated to ensure the product is well distributed.
Botox injections (botulinum toxin)
These are not fillers but relax the muscles. This means they need to be very precise and within the thickness of the muscles being treated.
The injections contain a dosage that is specifically designed for the area to be treated, allowing the muscle to relax while allowing enough mobility to maintain an expressive and natural appearance.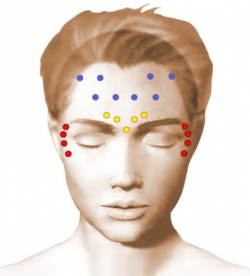 At the end of the treatment, you do not need a dressing and can go home straight away without any special kind of protection.
Usually, your face is not marked, there is no pain and you can carry on with your normal social life the same day.
The effects of the local anaesthetic may bother you for an hour or two, causing numbness in the treated area.
Bruises are very rare and it is always possible to mask these with make-up on the day of treatment.
After injecting hyaluronic acid, in the days that follow, there may be slight swelling (oedema) in the treated area due to a mild reaction caused by the product. This will take a few days to disappear completely.
No specific care is required.
You will need to attend a follow-up visit 1 month after treatment.
Exposure to the sun: if you have no bruising or marks, exposure to the sun is possible immediately using a sunscreen with a maximum sun protection factor. If you have bruises or marks, do not directly expose your skin to the sun until these disappear completely.
Make-up: make-up can be applied on the same day of treatment with your usual products.
Hyaluronic acid injections
You will see an immediate improvement, even if it takes about a week for complete stabilisation.
The smoothing and toning effect on the tissues is accompanied by an improvement in the appearance of your skin, thanks to the hydrating effect of hyaluronic acid, which attracts water and promotes hydration. This improves the quality of the skin.
The effects are visible over the long term, thanks to the good resistance of the current filling products. Their effects last over a year and often 2 years or more. This means that injection sessions can be well-spaced apart, making treatments less restrictive and less costly.
Botox injections (botulinum toxin)
You will see an improvement a few days after treatment and this will stabilise after one week.
The skin will be left to relax for an average of 6 months. This period can be used to carry out a peel to smooth fine surface lines, if you have any, and to stimulate skin regeneration.
One of the desired effects of botox is lifting the external part of the eyebrows giving a brow lifting effect by neutralising the muscles that lower the eyebrows.
When the botox effects start to wear off after 6 months, you may not need another injection immediately because the skin will benefit from the improvements gained from a period of relaxation. This will last several months.
Repeating botox injections will vary according to the patient, their reaction to the treatment and their expectations. On average, treatment is repeated every year.
As regards wrinkles, the best results are obtained by early intervention before deep wrinkles start to appear, avoiding aggravating factors (like the sun and tobacco, etc.) and by using suitable treatments for each individual. In particular, it is important to maintain the volume of a sagging face and support the skin by reducing muscle contractions that cause skin furrows where wrinkles occur.
The result is a relaxed, rejuvenated face, giving you an undeniable feeling of well-being. Your social circle will notice a change and an improvement but without being able to identify that this is due to any form of treatment.
The cost of the operation will depend on the procedure to be carried out, the duration of the operation, the type of anaesthetic and any hospital charges.
If the reason for the treatment is purely aesthetic, you are not able to claim for reimbursement through Social Security.
A detailed estimate is given to you during the first consultation following the options you have chosen. You then have a minimum legal period of 15 days to consider your options and move your project forward.
The first consultation costs €50. The follow-up consultations before and after the operation are free.
The photographs on this page are to illustrate and complete the information given on the operations. They are merely for information purposes so you can see the goals, results and scars from the operation.
The likelihood of scarring and each patient's individual anatomy are different. For this reason, therefore, the photographs on this site do not commit Dr. Benelli to providing all patients with a similar result.
The information given on a site is not sufficient in itself and a medical consultation is essential to get the right information for each individual case. For this, you will need to consult a surgeon qualified in Plastic Reconstructive and Aesthetic Surgery.