Lipofilling and Lipomodelling
Lipomodelling is a cosmetic facial surgery that harmonises the volume and shape of the face and neck by removing fat through liposuction in areas where it tends to accumulate (jowls, double chin,...) and firming up the tissues that have emptied or collapsed (cheekbones, dark circles, lips, ...) by injecting your own fatty tissue (Lipofilling).
Each face is unique, has its own character and expresses emotions and feelings, giving and individual their personality. The aim is not to transform your facial identity but, on the contrary, to harmonise its contours and volume. For this reason, my priority is to preserve the natural appearance of your original face and its character.
Your friends and family will notice a change and an improvement, but without being able to put this down to the fact you have had a treatment. Very often, they will think this is down to a new haircut or colour or a week's holiday.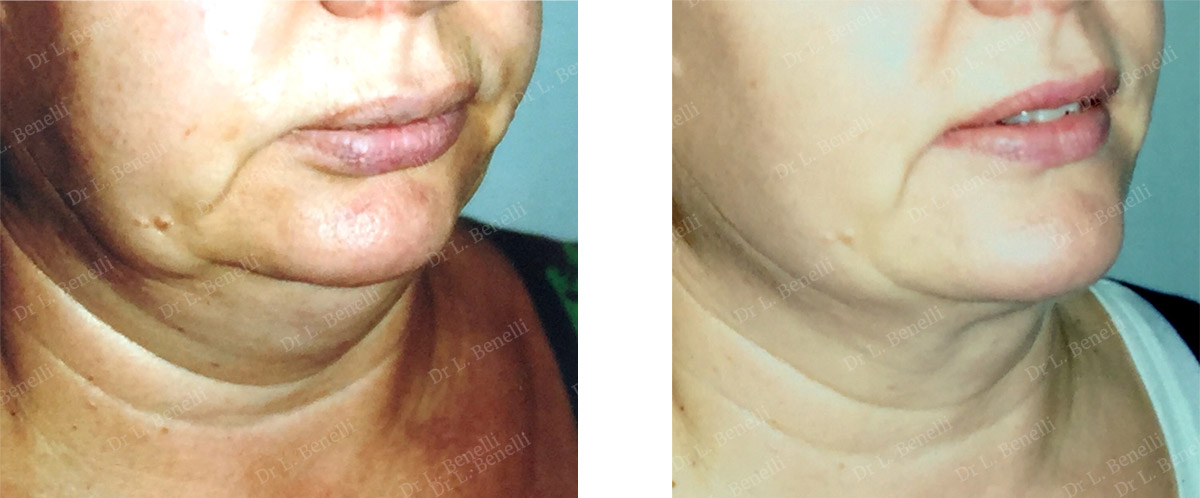 Refining the jowl and neck and through liposuction without leaving a scar and refining the cheek by removing the fatty Bichat ball, going in from inside the mouth.
Lipomodelling can be used on two types of patients with different objectives:
Facial refining surgery by liposuction in young patients who have a fatty excess, such as a double chin, jowls, fatty cheekbones... .

Localised fat in the cheeks corresponds to a ball of fat called the "Bichat ball", located deep within the cheek. This gives an impression of sagging around the cheeks, which masks the projection of the cheekbones and chin, giving you a baby face.
Surgery to prevent facial aging by maintaining tissue volume (Lipofilling) and to prevent sagging and wrinkle formation on tissues that tend to empty with age.
Each person arrives with a request to correct a particular defect that they find particularly troublesome. The objective of the operation will be to correct this defect as a priority by assessing whether it may be appropriate to correct other associated defects to have a well-balanced, natural result that meets your expectations.
Depending on the insights gained during the first consultation, the operation may be combined with another operation to improve facial harmony. Indeed, the correction of a particular defect sometimes presents the risk of bringing out another defect which was less visible before. This can be done during the same intervention or at another second time.
So, lipomodelling can concern one or more areas of the face and neck, possibly with liposuction of fatty deposits and lipofilling in areas that have emptied.
Eyelid plastic surgery,
A frontal, temporal, malar, jugal or cervical Curl-lift using tightening wires,
Lifting techniques,
Injecting hyaluronic acid or Botox to reduce certain wrinkles,
Chemical or laser peels.
During the first consultation, it is essential that you openly express what bothers you and what you would like to improve. Do not be afraid to ask any questions, including expressing your fears and expectations. Everyone has a different body shape, psychology and expectations. These are not the same and there is no standard to apply.

After you have explained your motivations, I will examine you and offer one or more solutions taking into account your expectations, your anatomy, respecting your identity and the natural aspect of your appearance.

So you can visualise the desired result, using a mirror, I will manually recreate the effect the recommended treatments will have on your skin; then, I will show you photos of surgical results from cases similar to yours so you can understand the objective of the procedure.

It is essential that you and I have a good understanding when deciding to operate and to determine the technique to use among those I can offer.
I will then give you all the information on the techniques proposed along with the information sheets from the Société Française de Chirurgie Plastique Reconstructrice et Esthétique (French Society of Plastic, Reconstructive and Cosmetic Surgery) as well as a detailed estimate of the costs for the options chosen. You will then be able to progress your project and get ready for a second consultation when you will be able to ask any additional questions to help you make a decision and prepare for the operation.
A full or partial blood test, depending on the type of anaesthetic (local or general).


In the event of a general anaesthetic, you will need a consultation with the anaesthetist in the weeks leading up to the operation and at least 48 hours before.
No medications containing aspirin or anti-inflammatories can be taken within 10 days of the procedure.
If you are having a general anaesthetic, you will have to fast strictly for 6 hours before the operation (do not eat anything, chew gum, eat sweets or smoke). However, for a local anaesthetic, you can to drink and eat lightly at normal mealtimes.
Tobacco consumption should be stopped or reduced as much as possible during the month before and month after the procedure. Tobacco can cause scarring problems.
Hospitalisation and duration of the procedures:
A hospital stay is usually limited to half a day in a day clinic.
The operation lasts about 45 minutes; then you can go home after a few hours of monitoring following the operation.
Local, deep local (neuroleptanalgesia) or general, according to your preferences.
Before you go to the operating theatre, in your room, I will go over the precise goals with you as we agreed during the consultations. You can then always make recommendations and ask any questions. I will then draw the lines and marks on your skin to guide the operation.

Treating fatty deposits by liposuction:
The area of localised fat to be treated is infiltrated with a mixture of saline, local anaesthetic and a product to limit bleeding using a micro infiltration cannula (1.5 mm). Liposuction is then carried out using a suction cannula (2 mm).

The jowls and the double chin are the places usually treated with this micro-liposuction technique.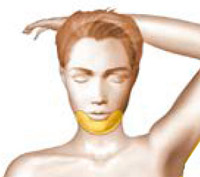 There are no scars because the micro-cannulas are introduced through needle puncture holes that leave no marks.

At the end of the operation, a compression dressing is applied to protect the skin on the modified areas.
Treating the "Bichat ball":

Localised fat on the cheeks is known as the "Bichat ball", located deep in the thickness of the cheek. This fat ball is removed by making a 1cm incision inside the mouth in the upper gingival fold, leaving no scars on the skin. The reabsorbable stitches in the gum do not need to be removed.
Lipofilling:
Lipofilling is a technique used to treat areas that are empty or have collapsed by injecting your own fatty tissue.
The fatty tissue that is reinjected is taken from a place where you have body fat, often on the hips, where high-quality fatty tissue supports re-implantation.
In fact, with Lipofilling, part of the transplanted fatty tissue will be reabsorbed while part will revascularise like normal local adipose tissue.
The fatty tissue collected by liposuction is then set aside for preparation, removing those parts that cannot be used for the graft, essentially the serum and oily fluids, which are removed by decantation and/or centrifugation.
The prepared fatty tissue is then ready to be transferred by injection to the recipient site; it also contains stem cells that will have a volumising effect and will also regenerate the treated areas. Reinjection is carried out using a micro-cannula in small amounts so the graft does not build up in a single spot but is distributed evenly over the entire area to be filled. There are no scars because the micro-cannulas are introduced through needle puncture holes that leave no marks.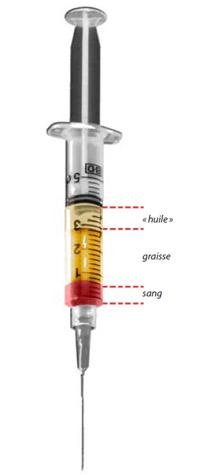 The percentage of fatty tissue graft varies according to individuals and between 30-80% of fatty tissue is injected. Therefore, we need to take a larger volume of fatty tissue to be able to overcorrect the area to be filled by at least 30% (a 130% over-correction).

There is a gradual deflation due to the reduction of post-operative swelling and fatty tissue that has not locally implanted, which is reabsorbed by the body. The volume gained stabilises three to six months after Lipofilling and is generally permanently preserved, even though it naturally ages just like the adjacent fatty tissue.

Stem cell regeneration in the fatty tissue used in Lipofilling can be seen over the months that follow and you can see an improvement in the skin quality and tone of the treated tissues.

This technique can be used alone or in combination with another for a better result and on any part of the face and body.
Any pain is very moderate and most of the time there is no need to take analgesics.

There is usually swelling (oedema) and sometimes bruising, which varies from case to case and takes a few days to disappear completely. However, you can mask this with suitable make-up designed for post-operative use the day after the operation.

You will need to take 5 days out from work and social activities.
You should clean your face daily with a mineral water spray.
If incisions are made inside the mouth, antiseptic mouthwash should be used after each meal for a week and after brushing your teeth.
If there are any stitches, these are absorbable and do not need to be removed.
You should make a follow-up appointment 3 days after the procedure, then after 15 days, 1 month, 3 months, 6 months, and 1 year.
Exposure to the sun: no direct exposure for 1 month, then exposure is allowed using a sunscreen with a maximum protection factor.
Make-up: you can hide any bruises with a cover cream the day after the operation and your usual make-up can be applied on top of the cover cream. The products used must be adapted and designed for post-operative use and will be prescribed for you on a post-operative prescription.
Unifying the fatty deposits improves your facial aesthetics and gives a toned impression to your face. This improvement is immediately visible despite the oedema (swelling) and possible bruises that prevent us from being able to fully judge the final result. After about ten days, your progress will allow us to see the result, even if this takes 1 to 3 months to stabilise.
With lipofilling, the fatty tissue transferred contains a good proportion of "stem cells" which can regenerate local tissues, improving the complexion and appearance of your skin as well as its volume.
Over the long term, the volumes blend and stabilise in a long-lasting manner; the majority of patients do not need to have another operation. However, for some patients, the aging process means that a further lipofilling procedure may be desirable a few years later.
However, to delay the aging process, ongoing maintenance involves lighter treatments like hyaluronic acid or Botox injections and chemical or laser peels.
The result is a relaxed, rejuvenated face, giving you an undeniable feeling of well-being, and those around you will notice a change and an improvement, thinking that you look well, but without necessarily being able to see that you have had an operation.
The cost of the operation will depend on the procedure to be carried out, the duration of the operation, the type of anaesthetic and any hospital charges.
If the reason for the operation is purely aesthetic, you cannot get reimbursement through a social security claim.
On the other hand, if it is for reconstructive purposes after an accident or an illness, you may be covered by social security and, where relevant, by your mutual insurance company.
A detailed estimate is given to you during the first consultation following the options you have chosen. You then have a minimum legal period of 15 days to consider your options and take your project forwards.
The first consultation costs €50. The following consultations before and after the operation are free.
The photographs on this page are here to illustrate and complete the information given on the operations. They are merely for information purposes so you can see the goals, results and scars from the operation.

The likelihood of scarring and each patient's individual anatomy are different. Therefore, for this reason, the photographs on this site do not commit Dr. Benelli to providing all patients with a similar result.

The information given on a site is not sufficient in itself and a medical consultation is essential to get the right information for each individual case. For this, you'll need to consult a surgeon qualified in Plastic Reconstructive and Aesthetic Surgery.